Flying Briefings
The video briefings created by Ryan Air Services will be an essential tool to guide you through your training course. They commence with Effects of Controls, the first flying lesson every pilot in the aviation industry experiences, through to circuit training and more advanced procedures. The briefs also cover Class D airspace the airspace within which most major Australian training aerodromes are located. i.e. Jandakot (Perth), Parafield (Adelaide), Moorabbin (Melbourne), Bankstown (Sydney) and Archerfield (Brisbane). Learning to effectively manage flight in controlled airspace is essential for every pilot.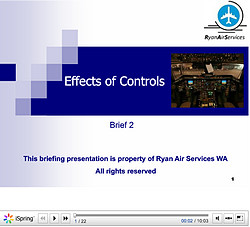 Preparation
One the most important aspects to professional or private flying is thorough preparation. The time to develop the habit of preparation is on your very first experience. Arriving for all your flights with knowledge of the theoretical concepts which will apply, the practical exercise to be conducted is absolutely critical to maximising the learning experience of each and every time you attend. The videos will give you the opportunity to do just that.
You will understand the principles the instructor delivers in his pre-flight briefing and be able to ask intelligent relevant questions to improve your knowledge as opposed to the potential of feeling a little bewildered and confused resulting in many of the important training lesson objectives being missed.
Practical Application
The briefs will allow you to preview how the flight lesson will be conducted in the aircraft and the techniques used to complete particular flying manoeuvres.
Review
As important as preparation, the ability to review you training cannot be overestimated. Straight after your flight, a few weeks after or more importantly leading up to flight tests and assessments, the ability to review each and every lesson including the theoretical principles involved and the practical flight application is vital. Learning is achieved by reinforcement. So as you can see the benefits of having full access to typical flight instructors lecturing materials will far outweigh the cost and can only be of benefit to your progress towards being the most safe, knowledgeable and skillful pilot you can be.
1 Pre-flight Inspect
2 Effect of Controls - FREE trial
3 Straight and level
4 Climbing
5 Descending
6 Medium Level Turns
7 Climbing and Descending Turns
8 Aerodynamic Stalling
10 Initial Circuits
11 Advanced Circuits
12 Crosswind Circuits
13 Steep Turns
14 Steep Descending Turns
Threat and Error Management
Each brief provides pilots with techniques to apply threat and error management to some of the most common risks associated with aviation and in its nature presents many risks – since pilot's are being trained and permitted to conduct solo flight without holding a crew licence.
The ability to identify threats and make correct decisions in the management of the threat and prevent further errors is an important aspect of airmanship and the ability to become a safe and proficient pilot.
Access to briefings
For an online access choose from selection below.
AUD$60 gives you 1-year online access.
Student pack start from AUD$100 includes the same disregard above and electronic log book with flight and duty.