AROC
Please note that there is a new requirement for aviation radio operators. CASA Part 64 requires every radio operator to pass an GELP (Aviation English Language test). The GELP course and test can be provided at the time of the AROC briefing, However it is a separate course and it attracts additional charge.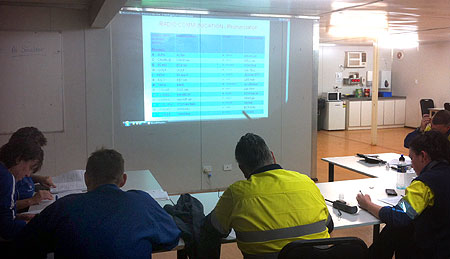 Welcome to Aeronautical Radio Operator Certificate (AROC) course, tailored to meet the needs of ground based radio operations for Off-Shore, Mining and Aerodrome Personnel. However, it also satisfy UAV and drones requirements.
Aviation radio has been in use for many years and is an essential part of today's aviation communication and safety. It is imperative that the spoken phrases are clear of meaning and understood.
Many of you will be familiar with the general use of the radio equipment in and around your working environment and you may even hold other radio operators licensing. However, a CASA radio licence is required for the use of aviation radio equipment and communication. This course satisfies the requirements of Civil Aviation Regulation (CAR) 83 and provides you with an Aeronautical Radio Operator Certificate. The course also covers material for use in the Flight Radiotelephone Operators Licence (FROL). This information should supplement your knowledge of aircraft radio procedures.
The AROC Course
This course accommodates both those with and without radio experience covering all aspects from the basics to specific aviation radio knowledge.
The course is comprised of two components that is required to satisfy the licensing and examination. As follows:
Theory and relevant questionnaire.
The practical radio test online.
The theory component incorporates firstly the course notes including CASA Syllabus and regulatory attachment for study purposes and secondly questionnaire. (A pass rate of 80% is required.)
The practical component l involves a verbal radio simulation ( via telephone ) to determine your skills in radio procedures and English competency.
Course Program
Your course will involve the following steps in achieving your A.R.O.C.
Forward your course payment.
If GELP brief and test is required at the same time as AROC forward that payment as well.
On receipt of payment your course package will be accessible via your online account.
Complete online personal details and print AROC forms. (google chrome works best)
Study provided CASA documentation and the training manual.
On successful completion of the practical test you will be provided a interim certificate.
Relevant documentation will be sent to CASA for processing.
You will receive your ARN and licence papers from CASA.
Course Package
Your course package will incorporate.
Course Training Manual
Theory questionnaire
CASA ACRO Syllabus
CASA Radio Operators Regulation 83
ASA ARN Application Form 1162
Application Form 638
Aeronautical Radio Operators Course instructions
Course venue:
Adelaide, Alice Springs, Beverly Uranium Mine, Brisbane, Brisbane - Domestic Airport, Brisbane - International Airport, Broome, Bunbury, Busselton , Canberra, Christmas Creek Mine, Christmas Island, Cocos (Keeling) Islands, Darwin, Denpasar, Exmouth, Gold Coast, Hobart, Jurien Bay, Kalbarri, Margaret River, Mataram, Melbourne, Northam, Onslow, Perth - Domestic Airport, Perth - Jandakot, Perth - Wellington st., Singapore, Sodexo Balcatta, Sydney, Townsville, Wellington,