Aviation radio licence
On-line Reservation
AROCP - is outdated name for AROC. Existing licence holders retain their validity, however new students must comply with new CASA regulations. ELP (Aviation radio language) test is required as of 1.9.2014 for all new applicants.
FROL - has also been replaced with AROC and the same requirements apply.
AROC requirements are:
ELP - English language proficiency test (with strong accent, in airport environment).
Face to face course.
80% pass mark.
Oral examination and a practical aviation radio test.
Completed Application Form 64-ROC, MOS CASA Part 61, CASA Part 64 (old Form 638).
ARN (Av. Reference Number) - We apply for your ARN with application Form 64-ROC (old Form 638).
Passport or birth certificate for identification purposes.
Additional requirements for pilots are:
All the above + medical certificate class 1,class 2 or "drivers licence medical."
ASIC or AVID security identification is required, or it needs to be applied for when submitting Form 64-ROC (old Form 638).
Steps towards your radio licence are easy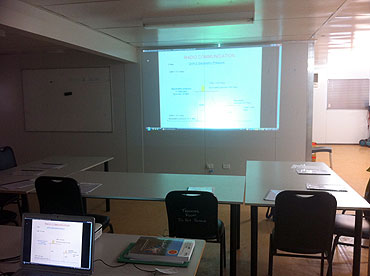 Book your course fot suitable date. (each applicant must have an individual e-mail address.) Once paid you will receive access to all necessary documentation. Fill in personal details. Attend the course and do not forget your passport or birth certificate for identification. We provide course material, and we will apply for the license on your behave, however it will be much easier for you if you read the course documentation and the training manual in particular.
Course venue
The standard radio aviation course is held at Jandakot airport 2 times a week. When 3 or more students are attending the course date and time can be booked at your convenience. The course can be conducted anywhere in Australia at your work place if
more then 4 students are attending.
the transport, accommodation and meals are provided for our instructor. (when outside Perth metropolitan area)
The standard radio aviation courses are held at:
Adelaide
Alice Springs
Beverly Uranium Mine
Brisbane
Brisbane - Domestic Airport
Brisbane - International Airport
Broome
Bunbury
Busselton
Canberra
Christmas Creek Mine
Christmas Island
Cocos (Keeling) Islands
Darwin
Denpasar
Exmouth
Gold Coast
Hobart
Jurien Bay
Kalbarri
Margaret River
Mataram
Melbourne
Northam
Onslow
Perth - Domestic Airport
Perth - Jandakot
Perth - Wellington st.
Singapore
Sodexo Balcatta
Sydney
Townsville
Wellington

Payment
Easiest way is to pay at the time of booking. If paying at a later date simply return to this website and use the payment tab on the left.